April 22, 2022 at 12:39 pm
#6199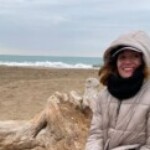 Cristina Laffarga Peñalver
::
Me encanta este concepto de pareidolias. Desde pequeña he ido buscando segundas formas a las cosas. Sobretodo me centro en el suelo de las casas. En mármol, parquet veo imágenes. Buscarlo en las nubes es lo más común.
Os adjunto unas imágenes que hice el otro día haciendo una excursión con mis hijos por la montaña. Nos encontramos con un gran cocodrilo de roca.
Attachments:
You must be
logged in
to view attached files.